Marrakech's YSL Museum Features Cy Twombly Show
Seven decades after his trip to Morocco, Cy Twombly revisits the North African kingdom through his collection of photos and drawings in addition to his multi-million-dollar Volubilis painting displayed at Yves Saint Laurent museum in Marrakech
The Fondation Jardin Majorelle opened on March 11th its upcoming temporary exhibition dedicated to one of the greatest artists of the second half of the twentieth century Cy Twombly.
Titled "Morocco, 1952/1953" and curated by Nicola Del Roscio, the exhibition, which has been set up in partnership with the Cy Twombly Foundation and the Fondazione Nicola Del Roscio and will be held from March 4 to July 2, displays Twombly's exquisite black and white photos, drawings in addition to the multi-million-dollar painting "Volubilis."
"I really thought it would be a wonderful exhibition to bring to Morocco because this painter had never been shown ever in Africa, let alone Morocco," Madison Cox, President of the Yves Saint Laurent museums in Paris and Marrakech and President of the Pierre Bergé-Yves Saint Laurent Foundation, told Middle East Online.
In the fall of 1952, Cy Twombly (Lexington, Virginia, 1928 – Rome, Italy, 2011) receives a traveling scholarship from the Virginia Museum of Fine Arts and leaves New York for his first trip to Europe and North Africa.
He meets up with fellow artist Robert Rauschenberg in Casablanca in October 1952, and the two of them travel to Marrakech and the Atlas Mountains, and then to Tangier. They pay a visit to the writer Paul Bowles in Tétouan and go on day trips with him to nearby villages and Roman ruins. Twombly conducts his first and last archaeological excavation there.
Upon their return to Rome in February 1953, Twombly studies and sketches African artifacts he sees at the Museo Nazionale Preistorico Etnografico Luigi Pigorini.
These sketches survive in the form of the North African Sketchbooks. Much of the surviving work from this trip consists of photographs taken with a Rolleiflex shared by the artists and sketches preserved in the archives of the Cy Twombly Foundation and Fondazione Nicola Del Roscio; they provide a unique perspective on Twombly's lesser known affinity for Morocco. In the fall of 1953, shortly after their return to the US, Twombly, and Rauschenberg held a joint exhibition at the Stable Gallery in New York City.
Twombly's contribution included seven or eight paintings, half of them titled after Moroccan towns: Volubilis, Tiznit, and Quarzazat.
"Twomby delved into the DNA of the Berber culture. What really moved him is the profound works whether they were tribal works or different samples of the Berber culture," said Cox
Alexis Sornin, Director of the Yves Saint-Laurent Museum in Marrakech, said Twombly was fascinated by the Berber culture and the Roman city of Volubilis which inspired his paintings and drawings.
"We chose Twombly's photo taken of him under an Argan tree as the emblematic picture of the exhibition, in billboards and screens of airline companies at Marrakech airport," said Alexis.
North African Sketchbook
Equipped with pencil, crayon, and paper – light materials to carry around – drawing enabled Twombly to register what he was unable to paint while exploring Morocco. Whether as single sheets or assembled into sketchbooks, the drawings display some of the discoveries that Twombly made during his trip—a trip that was, in fact, part of a larger educational journey that first gravitated around the cultural centers of the Old World.
From the "hundreds of sketches" he mentions having done in Tangier, apparently, only one sheet survived. The others were produced when he was back in Rome. As a collective body of studies, they all bear the same title: Untitled (North African Sketchbook).
The reference to the cultural-geographic area indicates that Twombly's previous encounters not only continued to work in his memory, but they also guided his actions in Rome. Many of Twombly's North African Sketchbooks make palpable this sensation of one thing shifting, even becoming another. Redirecting the gaze toward the ambiguous ground, the sketchbooks invite the association of further images
"Six sketchbooks in A4 form displaying transcriptions, drawing and writings of what Twombly observes throughout Morocco, including objects and instruments," said Sornin.
"Twombly's journey in Morocco was brief but with a long influence as he continued to draw from Rome where he was still thinking about Africa and spending days drawing what he remembers from his trip in Morocco," he said.
"Before, during and after this trip outside the US, Twombly goes to Morocco, thinks Morocco and draws Morocco even when has been only once to the North African country," he added.
Cy Twombly's photographs
Rauschenberg and Twombly made the decision to document their travels using a secondhand Rolleiflex Twin Lens Reflex camera. The images were then printed on both Kodak Velox and Agfa Lupex paper, both of which are now discontinued.
Given travel constraints and limited studio space, Twombly could not paint while exploring Morocco, making photography a practical, compact mode of artistic expression and method for capturing their surroundings.
Twombly's photographic work was as much artistic as it was documentary. In some photographs, he situated Robert Rauschenberg in the physical landscape of Morocco others include close-ups of graves and tombstones. Some are covered in geometric, abstract, and symmetrical shapes, while others feature Hebrew inscriptions. Twombly clearly absorbed these local symbols and would later translate these elements of vernacular culture onto his canvases.
"If we are being propelled forty years later, the interest in Morocco seems to be of a particular concern to the American artist to reprint the negative into small photos," said Sornin.
Volubilis painting
Volubilis is built up of many layers, with the surface actively worked up and agitated, again and again, by the artist. In some parts, the paint appears splashed on and poured; in others, gouged into and incised. A stray piece of charcoal protrudes from the thick layers of paint.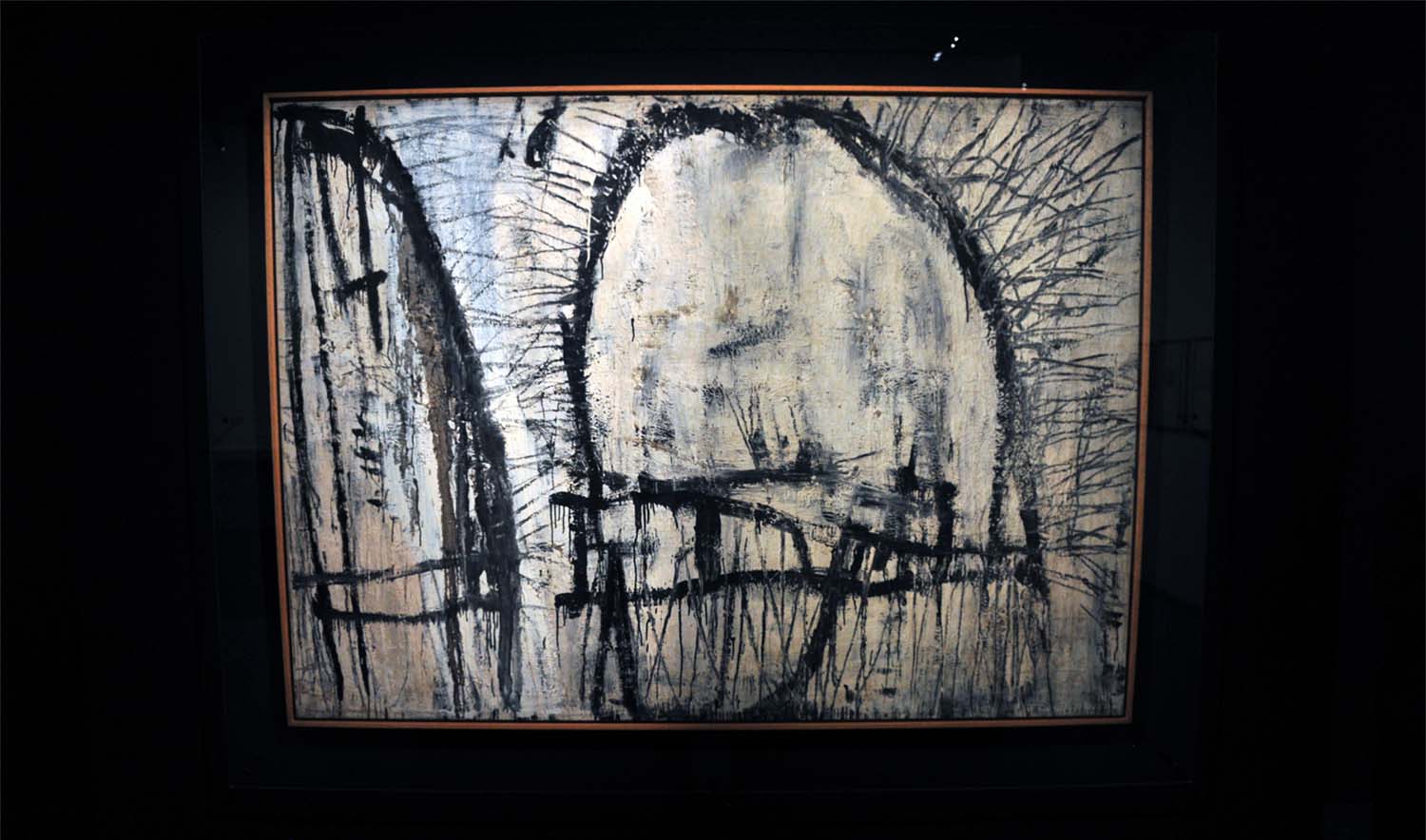 On a visual level, then, the thickly slurried ridges of paint recall the furrows of the excavated Moroccan field, reproducing (in different materials) the appearance and the archaeological operations of the site it names. In its title, Volubilis names a city at the base of the Atlas Mountains that served as an important outpost of the Roman Empire. Rome in Tangier, pockets of Morocco in Italy: this permeability is emblematic of Twombly's conception of history. His work turns on the interpenetration of different levels of history, both temporal and spatial.
"The painting evokes his passion for archaeology as he embarked on an archeological excavation for the first and last time as proved in his archival correspondence letter with the Virginia Museum of Fine Arts," said Sornin.
"The painting was done in the US in 1953 after got back from his trip in Europe and North Africa," he added.
Saad Guerraoui, Middle East On Line