Salem AlKetbi: What's Behind Macron's China Trip
In Beijing, President Xi Jinping welcomed French President Emmanuel Macron with a breathtaking military parade. Macron's visit sought to enlist China's assistance in putting an end to the Russian war on Ukraine. Addressing Xi, Macron expressed confidence in China's ability to "bring Russia to its senses, and bring everyone back to the negotiating table." This underscores Paris's belief in China's potential to help resolve the Ukraine crisis.
Xi, for his part, stressed their countries' duty and capacity to safeguard world peace.
During his visit, Macron didn't just seek out Chinese help in the Ukraine crisis. He also emphasized his desire to bolster economic and trade ties with China. To underscore this, he brought along a substantial group of businessmen, illustrating his main objectives in Beijing. It's worth noting that he was joined by the President of the European Commission, Ursula von der Leyen, which highlights the importance that Europe places on its relationship with China.
On the eve of his trip, Macron shared the growing concern over a "vicious cycle of escalating tensions" between China and the West, fueled in part by the conflict in Ukraine. Presumably, he was alluding to the proposed US sanctions against China for purportedly backing Russia. This implies that France, along with other European countries, may not want to wholeheartedly follow America's lead in its approach to China. They may want to distance themselves, even slightly, from the risk of a trade war with China that could negatively impact Europe's economies.
Macron's visit, along with that of the EU chief, followed trips by German Chancellor Olaf Scholz and Spanish Prime Minister Pedro Sanchez to Beijing in recent months, underscoring Europe's interest in strengthening ties with China.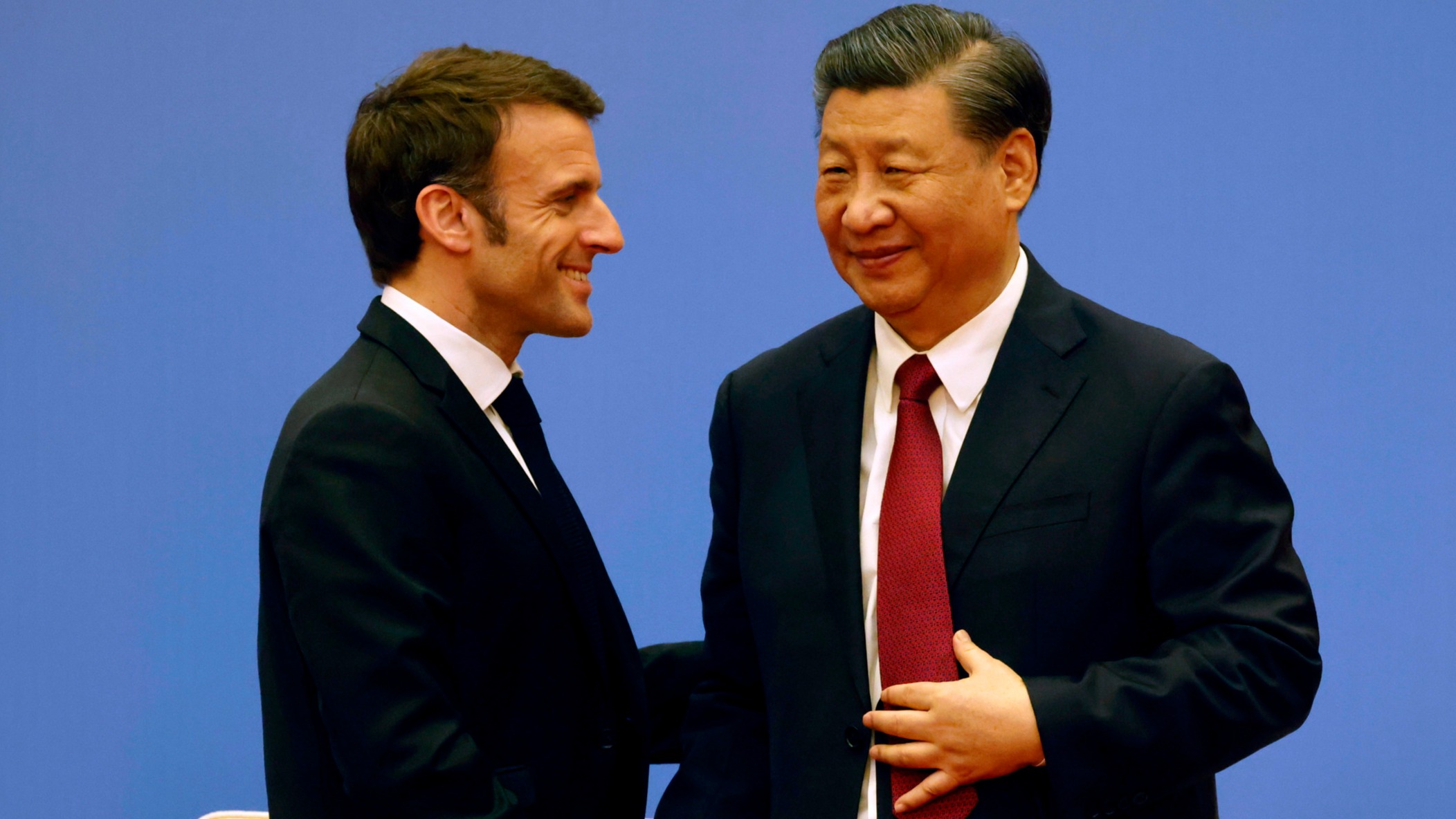 European countries, including France, are well aware of the perils posed by the protracted conflict in Ukraine. They also acknowledge that the US is in no hurry to bring the crisis to a close, despite the fact that it's Europe that bears the brunt of the economic and humanitarian fallout. Against this backdrop, Macron is striving to encourage the Chinese president to redouble his efforts to broker a resolution to the crisis. He understands that China wields considerable sway over the Kremlin, yet it has rejected Beijing's overtures to end the conflict.
READ: Macron denies all responsibility over anti-Morocco campaign
Instead, the Kremlin appears to be intent on pursuing a military victory or imposing a lopsided settlement on Ukraine. Achieving a political, economic, or military breakthrough in such an environment would be an uphill battle.
The European Commission President's visit to China with Macron is laden with significance for the Chinese leadership. Mrs. Von der Leyen has a track record of supporting the US stance on the Ukraine conflict and has been scathing in her criticism of China's position vis-a-vis Russia. She has dismissed China's peace proposals as unworkable and does not appear to share Macron's view of China's role in ending the crisis.
Nevertheless, the joint visit seems to be an attempt to engage with the Chinese side in a candid and pragmatic manner and convey Europe's perspective on the crisis to President Xi Jinping. It may also be interpreted as an effort to chart an independent course from the US, which often disregards the interests of its European partners in its dealings with China.
Instead, the US seems content to enlist Europe's participation in imposing sanctions, despite their potentially devastating impact on European economies already grappling with the repercussions of the Ukraine conflict.
It appears that Europe is sending a clear message to China regarding the Ukraine crisis. There may not be a breakdown of unity between the West, but it seems that these moves are being made in coordination with Washington. Europe wants to make it clear to China that its stance towards Russia will play a crucial role in shaping its relationship with Europe in the future.
The President of the European Commission emphasized that whether China supports Russia's military efforts or genuinely works towards ending them will be a "decisive factor" in EU-China relations for years to come. It is imperative that this message is conveyed "without ambiguity" to Beijing.
European leaders and officials have been making consecutive visits to China, signaling a desire to deepen understanding of Beijing's policies and positions. These visits are aimed at building stronger relationships with China, particularly in the trade and economic spheres, and to explore what policy directions China may take in the current stage.
It is clear that the deterioration of relations between Europe and both Russia and China at the same time poses a significant risk that would not serve the interests of Brussels in any way.
The author is an UAE political analyst and former Federal National Council candidate