Tunisia's Ghannouchi Detention Shifts Focus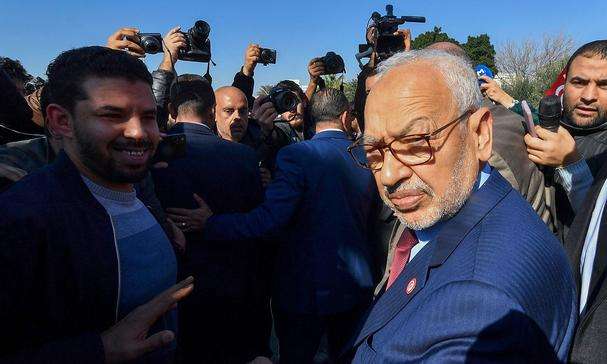 Tunisian president's purge of journalists, writers, activists and anyone who dares to comment about his style of governance might be about to backfire on him with the West drifting farther away with its IMF rescue plan.
The arrest of an aging opposition leader might be a tipping point for the Tunisian dictator whose time in office is not unlimited.
Dozens of academics and public figures have signed an open letter calling for the release of jailed Tunisian opposition leader Rached Ghannouchi, who was arrested late last month, pending a trial.
Ghannouchi, who was the speaker of parliament before it was suspended by Tunisia's President Kais Saied in July 2021, was jailed on suspicion of plotting against state security.
According to his lawyer, the 81-year-old was sentenced in absentia this week to a year in prison.
The 150 signatories in the open letter said Ghannouchi was arrested for a public statement in which he "criticised Tunisian President Kais Saied's coup against democracy", reports Al Jazeera.
They said his arrest is part of a wide-ranging "politically motivated witch hunt".
"Mr Ghannouchi is recognised as one of the most prominent advocates of democracy in the Arab world," the signatories, from 18 countries across North America and Europe, wrote.
"His consensus-building approach and consistent calls for dialogue and unity across political, intellectual and ideological lines are needed in Tunisia, the wider region and beyond more than ever."
Saied has been conducting a continuing crackdown against the country's opposition since he suspended parliament. Several opposition figures have been detained in recent months, many of them from the prominent Ennahdha Party.
He gave himself powers to rule and legislate by decree and seized control of the judiciary in what rivals saw as a blow to democracy in the birthplace of the 2011 Arab Spring uprisings.
Bottom of Form
"Tunisian democrats have not remained silent. Dozens are in prison for bravely defending their hard won rights and freedoms, and faced trumped up charges of 'conspiring against the state'," the letter read.
The signatories further expressed their "support and solidarity for all political prisoners".
"We call on the Tunisian authorities to release all political prisoners and to restore freedoms and human rights in Tunisia."
In October 2011, Ennahdha emerged as the largest party in the country's first parliamentary elections since the removal of President Zine El Abidine Ben Ali, winning 37 percent of the vote.
Over the last several weeks, authorities in Tunisia have arrested at least 17 other Ennahdha party members, prompting rights groups like Human Rights Watch to condemn the Tunisian government.
The US-based rights group has warned that the government was "moving to neutralize the country's largest political party".
HRW said last week the total number of arrests of opposition figures considered critical of Saied stood at 30.
Al Jazeera