Arab summits: a brief snapshot of history
Over eight decades, Arab League leaders have convened 46 summits, including 31 regular and 15 emergency sessions, as well as 4 Arab economic development summits. These gatherings have involved extensive consultations, deliberations, and transformations, leaving a lasting impact on Arab collective action, while some have become forgotten in Arab memory.
Ahmed Youssef Ahmed, Professor of Political Science and former Dean of the Arab Research Institute affiliated with the Arab League, highlights the Cairo Summit of 1964 as one of the most influential Arab summits in shaping the Arab landscape.
At that time, unprecedented Arab-Arab conflicts prevailed. There was Arab resentment against the Iraqi regime's policies seeking to annex Kuwait, as well as tension between Egypt and Syria following their separation in 1961.
Moreover, Egyptian-Saudi differences emerged against the backdrop of the Yemeni revolution, along with armed clashes between Algeria and Morocco due to border disputes. Concurrently, Israel accelerated its projects to divert the course of the Jordan River.
In an interview with Asharq Al-Awsat, Ahmed emphasized that during the summit, Arab chiefs of staff acknowledged their incapacity to address Israeli projects at that time. As a result, an emergency summit was called, with the participation of all Arab leaders except the King of Libya, who delegated his crown prince to attend.
The summit established alternative Arab projects against Israeli initiatives, promoted harmony among Arab nations, formed a unified Arab military leadership, and laid the foundation for the Palestinian Liberation Organization (PLO) as the legitimate representative of the Palestinian people.
While Arab summits continued to convene annually, the Arab memory may hold a special recollection of the Khartoum Summit in August 1967, known as the "Three Noes" summit. The three noes of Khartoum stood for: "No peace with Israel, no negotiation with Israel, no recognition of Israel."
Ahmed recalled the accompanying atmosphere of that summit, noting that it took place at a crucial time following the "devastating defeat" of Arab armies in June 1967. He highlights that the summit witnessed an Egyptian-Saudi agreement on resolving the conflict in Yemen.
At the summit, Saudi Arabia, Libya, and Kuwait offered substantial financial support to the countries confronting Israel, a decision regarded by Ahmed as a pivotal moment for Arab national security.
The summit witnessed a fading of Arab contradictions as the shared objective of mitigating the consequences of aggression took center stage. It is worth noting that the primary supporters of the confronting countries were monarchies, which had previously been perceived as contradictory to countries like Egypt and Syria.
After three years, the Arab world witnessed the "fastest Arab summit in history," according to Ahmed.
The Cairo Summit, held in September 1970, swiftly convened within 24 hours amid perilous circumstances arising from the clash between Jordanian authorities and Palestinian resistance. This summit established a red line prohibiting Arab states from clashing with the resistance, leading to a ceasefire agreement and concluding with the departure of Egyptian President Gamal Abdel Nasser.
Another noteworthy summit is the Sirte Summit, hosted by Colonel Muammar Gaddafi in 2010, just a year before his ousting. Furthermore, the 2015 Sharm El-Sheikh Summit saw Arab endorsement of the "Decisive Storm" campaign led by Saudi Arabia in Yemen, which, as stated by Ahmed, "halted Iranian expansion in Yemen."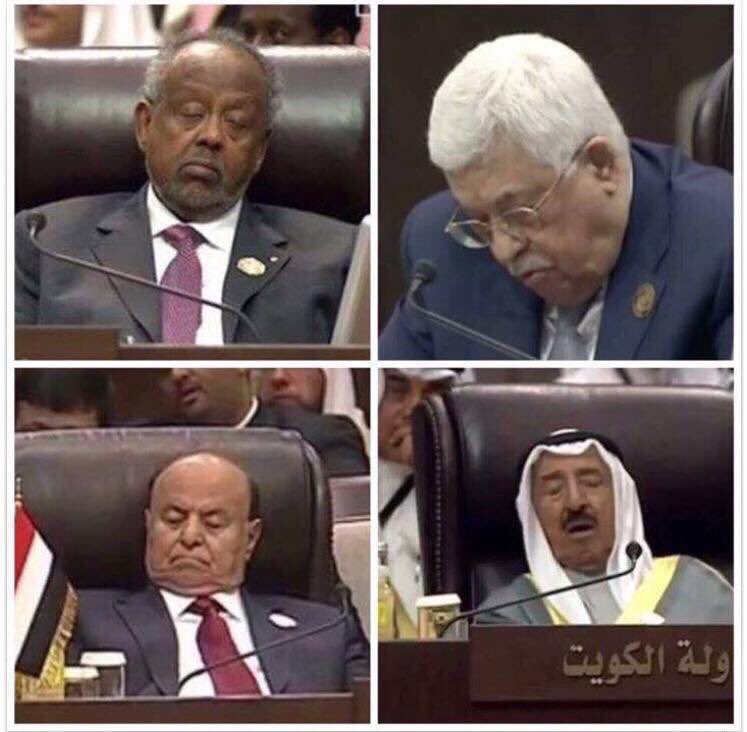 The Makkah Summit, held in May 2019, was the latest exceptional Arab summit addressing Iranian intervention. Prompted by attacks on commercial vessels in UAE waters and Houthi attacks on Saudi oil pumping stations, the summit affirmed Arab solidarity against Iranian interventions. It condemned Iran's interference in Bahrain, its impact on Syria's unity, its occupation of Emirati islands, and its support for terrorist groups.
Following a hiatus due to the COVID-19 pandemic, Arab summits resumed in 2022 with a "Reconciliation" themed summit in Algeria. Although previous discussions sought to restore Syria's membership in the Arab League, it was not accomplished at that time. The objective of "Reconciliation" was postponed to the current summit in Jeddah, which will mark the first fully attended Arab summit in 12 years.
Asharq Al Awsat