French-Morocco Reality Unveiled by Diplomat's Slur
A former French diplomat who was close to Morocco for many years, has appeared to have thrown a late night tantrum via Twitter against Morocco accusing the kingdom of 'black mailing' France on the Western Sahara dossier.
This June 4, 2023,  Gerard Araud who had notably served as permanent representative of France to the United Nations (2009-2014) then ambassador to Washington (2014-2019) made a vague reference to the "usual blackmail" with regard to the dispute over the disputed territory of Western Sahara – although fails to elaborate on what the so-called chantage actually is, in his view.
Reacting to a publication on the "Morocco Intelligence" page, which returned to the current crisis between Rabat and Paris, he implied that the Moroccan side would seek to take advantage of what he described as an "American volte-face" , that is to say the recognition decision taken in December 2020 by the United States, for President Emmanuel Macron to also take the plunge. But it is his claim that until the Trump decision on Western Sahara, taken in his last days in office, that France worked hard to defend Morocco and its claims to the disputed territory.
"France was alone in defending Moroccan interests in the Security Council," he said. And to return later to the charge, following the vitriolic reactions of Moroccan Internet users, to plead in a second tweet that he "spent nights defending Morocco in the Security Council on behalf of France, including in the face of UNITED STATES".
In 2014, Arud made headlines with more polemic, if not absurd anti-Moroccan statements about how France treats it:  "Morocco is a mistress with whom we sleep every night, which we are not particularly in love with but which we must defend". He subsequently denied this, but that said, it had contributed to "complicating relations with Paris in a context where French justice had almost simultaneously tried to summon the director general of National Territorial Surveillance (DGST), Abdellatif Hammouchi, for an accusation of torture of former kickboxer Zakaria Moumni", according to Maroc Hebdo.
Arud's claims that France gave unconditional support to its "mistress" Morocco are unfounded though as credible sources on the Moroccan side note that during with heyday period, Paris also benefited by a number of very lucrative contracts which French companies won.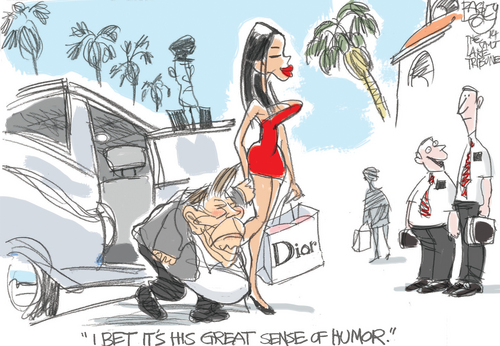 The breakdown in relations between Paris and Rabat could be identified by its pinnacle moment when Morocco's ambassador was withdrawn from France.
Indeed, according to Moroccan outlets, Araud made his controversial remark following a tweet from Moroccan news outlet Morocco Intelligence,  which recalled King Mohammed VI's decision to terminate  Mohamed Benchaaboun's duty as Morocco's ambassador to France in February.
As Benchaaboun's termination came amid tumultuous tensions between Paris and Rabat, many observers put the diplomatic feud simply down to Morocco's issue with France's ambiguity on the Western Sahara dispute.
France's decision in 2021 to tighten consular services against Moroccans also contributed to the lingering strained ties.
Macron's deliberate ambiguity over the Sahara dossier has certainly flared tensions. But it is worth noting that the source of this bitterness goes back further. Relations between Morocco and France deteriorated after Moroccan intelligence was accused of using Israeli-made Pegasus spyware to spy on French President Emmanuel Macron. The French President is believed, by a reputed Moroccan writer to have uttered a disrespectful comment to the Moroccan king when the latter tried to assure him that he had no hand in the spying.
It is this singular act of impertinence by Macron which is at the heart of the abysmal ongoing row which is harming Morocco more than France as Rabat continues to turn the screws on Europeans living in Morocco in a tit-for-tat move born more of misguided revenge seeking against a former colonial power with increasingly harsher requirements for residency. The Rabat elite have no choice but to go along with it while struggling more and more with the desperate bid to find foreign investment while the security chief throws more journalists in jail; few in Morocco see a link between the low levels of interest from foreign firms and the all time new low point of human rights abuses. Arud's late night rant on twitter may seem a desperate move from a washed up diplomat who's now out of the limelight, but some analysts point out that he gets the last laugh when it is Morocco who cuts his own nose to spite his face with the petulancy and certainly the unmerited coverage that Moroccan media gave the diplomat.
The Editor