Algerian businessman, Rachid Ibersiene, is 15 years into a successful career in the Algerian Atlas mountains after winding down from his 9-5 with Swiss cheesemakers. 
After working in computer consultancy in Switzerland, Ibersiene was in a very stressful and demanding job, reports Africa News.
"During that time, I would go to the mountain chalets to relax and watch the cheesemakers working in the mountains." The 57-year-old employee told his story.
"I took a training course, I had cheese-making customers, I trained with them in Switzerland in Gruyère, the country of cheese."
It was in 2003 that Ibersiene moved into the Swiss area to dedicate more time to the cheese-making practice before three years later translating his skills learnt to create his own company in Algeria.
'Fafi' is a tribute to his mother, which Ibersiene dedicated his entire life's savings after his initial financial aid was declined upon setting up.
For the equipment that was needed, it cost the newly trained cheese-maker 10 million diners- equivalent to $73,000, although the factory only began turning a profit in 2018- 12 years after starting up.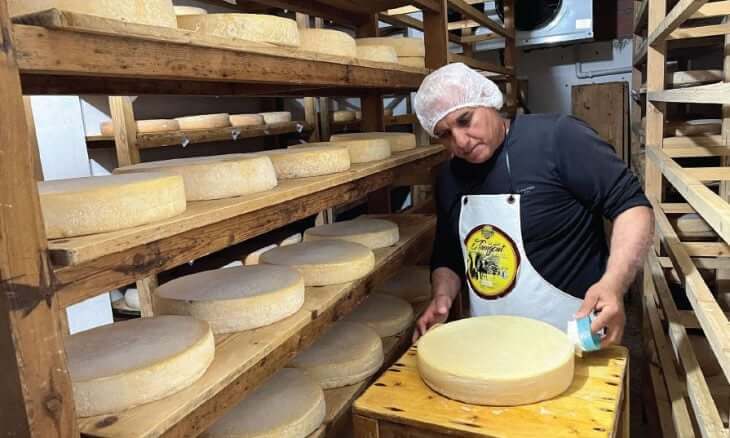 Seeing vast growth from when the company began, the factory now takes in 1,000 litres of cows milk, producing 50 kg of cheese per day. 
"Depending on the taste of the customers, the maturation of Tamgout period could be anytime between one month to two years.
"Our cheese is made from raw cow's milk, without any food additives. It is untreated. We use natural lactic ferments," he added.
The owner differentiated his cheese from others: "Algerian milk is less uniform and somewhat more organic because the farms are smaller and more diversified. In Switzerland, you don't find farmers with only two or three dairy cows.
"Our cheese has a more nuanced taste- it's "typically Algerian".
Although Algeria is not famous for its cheese, the company is developing a new formula, derived from camel milk, labeling it as 'magic'.
"It's a first, I don't know if it's a first worldwide though," he admitted, adding, he had cheesemonger guests from France who wanted to buy it, but they have preserved it for testing.  
Fafi have also had locals visiting their company, based at the foot of Mount Tamgout, where their special cheese takes its name.
"Customers come from abroad to buy it", including someone from New York, he said.
Ibersiene finished by stating that the company was a "source of pride" since they began at the bottom and have a promising future ahead of them.