Spain and Morocco enhance their relations, deals signed
The two countries have come closer after agreements were signed in Rabat, allowing Madrid some slack over its two enclaves in the North of Morocco and Rabat support on its Western Sahara objectives. But the deals also come with some controversy 
The Spanish PM and his Moroccan counterpart have signed agreements which ramp up relations between Madrid and Morocco to a new level, opening up possibilities of investment and regional cooperation like never before.
In the first high-level bilateral summit between Spain and Morocco in eight years, the two nations signed 20 different agreements that, according to Spain's Premier, "consolidate a new era of mutual trust and genuine cooperation like it's never existed before," Anadolu News Agency reports.
Spain's Prime Minister, Pedro Sanchez, and 11 of his ministers met with their Moroccan counterparts on February 2nd  to "establish the bases for the type of bilateral relationship we want now and in the future."
Besides the 20 agreements, Sanchez said the two nations vowed to avoid policies or discourse that will "offend the other party, especially when it comes to our respective spheres of sovereignty."
With that, Sanchez was likely alluding to Morocco's claims on Western Sahara and Spain's two North African enclaves — Ceuta and Melilla.
Rabat and Madrid also established a new communication pathway that will allow the countries to discuss urgent issues privately, "no matter how complicated".
The relationship between Spain and Morocco became extremely tense in 2021 after Spain secretly treated the separatist leader of Western Sahara for COVID-19 behind Morocco's back.
Shortly after the news of the COVID treatment emerged, Moroccan authorities stood by passively while thousands of migrants swam from Morocco to Ceuta.
But the days of feuding have come to an end, according to government leaders.
Among the agreements signed, the countries agreed to find new ways of "regulated migration" and to normalised circulation between Moroccan and Spanish territories.
Spain also announced an €800 million ($869 million) credit line for Spanish businesses to invest in strategic sectors in Morocco like water, agriculture, tourism and rail. Other agreements were related to culture, education and language.
Sanchez said both countries stand to benefit from the transition to green energy.
While the Spanish leader hailed the meeting as a "milestone for Spain and Morocco", not everyone agreed.
"Sanchez is proving he's an international lightweight in this summit in Morocco. Half of his own government stood him up, as did King Mohammed VI, who only called him by phone. It's hard to be more ridiculous," said Elias Bendodo, a leader within Spain's conservative Popular Party.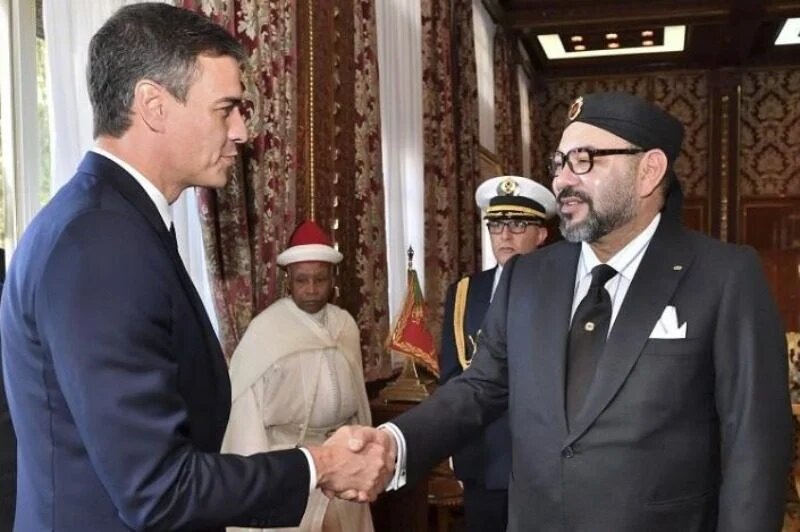 Indeed, the Unidas Podemos ministers from Spain's coalition government did not join Sanchez. Many have spoken against Madrid's recent shift to supporting Moroccan control of Western Sahara.
Meanwhile, the Polisario Front, which defends Western Sahara independence, slammed Sanchez for "ignoring" international opinion on the issue.
"We are two separate countries," its delegate in Spain, Abdulah Arabi told the Spanish daily, Europapress.